What I'm Watching:

I'm watching After Skool – The Slow Poison of Endless Fantasy.
It's about the story of how a young handsome, and promising knight fell victim to perpetual fantasies.

It's meaningful, and you should check it out.
This story is relevant because of the culture of instant gratification today, where people are conditioned to live in fantasies and chase the next "high."

Well, the more you do this… the less likely you will put in the work required to help you achieve your goals.

Case in point:
You have the internet – an endless entertainment outlet where you don't have to pay a single cent to enjoy it.

If you're bored, you can play a mobile game, watch Youtube or browse social media…

And you can do this for hours if you aren't conscious.

These entertainment devices foster escapism.

It temporarily allows people to leave the harsh realities of life through virtual reality.

Here's the thing:
If you keep escaping your emotions and refusing to face them, you won't fulfill your destiny.

Your destiny is based on the hard work and discipline you put in to face your demons.

This story is a cautionary tale of how people can waste years or even decades of their lives on addictions and coping mechanisms.
They will never live up to their true potential.
If you're an entrepreneur looking to achieve your calling in life… you need to build character.

Be very conscious of what you spend your time on.
What I'm Reading:
I read this interesting article last week.
To give you a context, I'm an avid gamer, and one of the games I love is Stardew Valley (A farming simulator).

Recently, the developers added an extra layer of innovation by integrating serial killers into the game.
This is fascinating because I'm seeing one of the laws of Holy Grail Marketing in action here.

Giving People What They Want In a Way They Don't Expect
The developers are creating a completely new and different game by adding an extra twist to this game.
Hence, if you're an offer owner looking for ways to launch a Blockbuster Product – it's always a good idea to think of how to create novelty.
Moral of the story?

You Can Create Novelty with Weird-But-Random Innovations.
If you're not too sure how to implement this concept – then come for the upcoming Knights of the Holy Grail Virtual Immersion.

What I'm Thinking:
One of the biggest questions I'm thinking about lately is this one question:
What Business Are You Really In?
I saw someone asking this question in the Nothing Held Back Facebook Group, and there were many interesting answers.
This question is simple, yet it stumps most entrepreneurs.

For myself, I do a couple of things in my business.
I write…

I teach…

I sell…

Yet at the same time, it's a bit tough to explain what I do to an audience that's not acquainted with internet marketing.

Like to my relatives or friends who work in a day job.
And so, my answer to this question varies according to the asker's context.

(Depending on whether the person is an entrepreneur or runs a day job).

Alen Sultanic, the man behind Nothing Held Back Group, gave an interesting answer.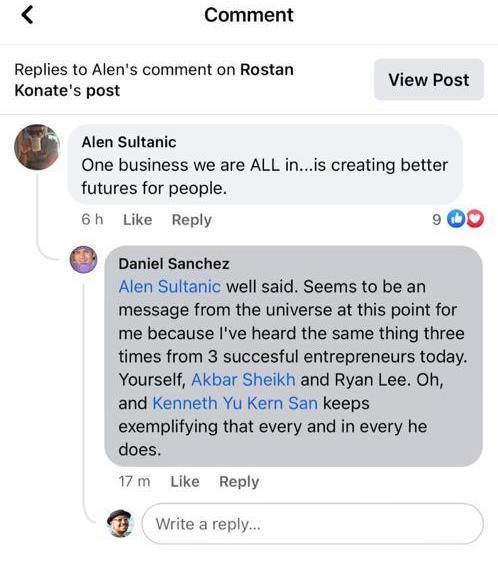 You can check out this thread on Facebook in the Nothing Held Back Group – it's incredibly fascinating as there are over 100+ answers, and no two entrepreneurs gave the same response.

Now, back to this question…

What Business Are You Really In?

I'd like you to take it seriously.
Sit on it and think.

Because if you can't condense your business into a single sentence, people will probably struggle to comprehend what you do.

If you get this right – it's far more likely that you can identify your positioning and competitive advantage in the industry.

Well, you don't have to give me the answer right now.
You can make a coffee or tea and spend a few minutes thinking.
But if you still can't get this right, I'd like to help you find the answer.
Come for my 3-Day Virtual Immersive, and you'll find your true business.