Hi ,
You might know about Chet Holmes, one of the legendary figures in marketing who wrote the bible, The Ultimate Sales Machine.

He passed away a few years back. However something remarkable happened…

I've had the fortune of meeting his daughter, Amanda Holmes who is continuing his dad's legacy in T&C 2022.
Here's a photo I took with her.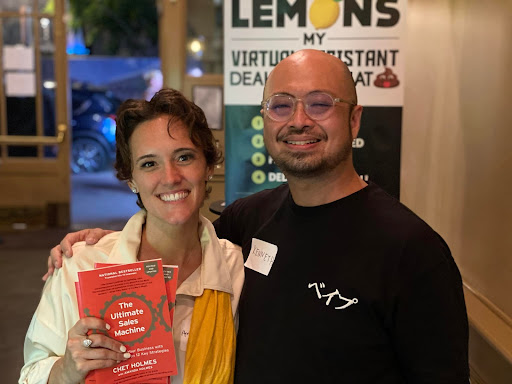 Amanda and I had a good chat and she shared that she was updating her late dad's book, The Ultimate Sales Machine.

The original book was written in 2008 and it's been a good 14 years since then.
While the principles in it are timeless, Amanda decided to give the book a whiff of fresh air by compiling over 80 pages of new case studies, frameworks, checklists and easy-to-follow tips.
She wants to further her late dad's legacy by helping more entrepreneurs double their sales while reducing stress.
This is truly a sales bible for it will teach you how to create an automated system that converts leads to sales effortlessly.

I encourage you to get it if you haven't (And even if you already have the book, you can consider getting the updated version for the NEW CONTENT).
If you take action today, you can get access to these BONUSES:
✔️Exclusive invites to the Virtual Launch Party with special guests Russell Brunson, Jay Abraham, Verne Harnish, and more!
✔️Sneak peek of the Chapter that changes lives!
✔️The Follow Up Strategy that wins 7x more clients without costing you a dime.
Reserve your copy now and get first dibs to these awesome freebies!


To the Pursuit of Dreams, Desire and Destiny,
Kenneth Yu