Hi
Have you heard of Gary Bencivenga?
He's one of the top copywriters in the world.
Gary was widely known in the Direct Response Industry for selling out his flagship Retirement Seminar for $5,000 a seat at the St Regis Hotel.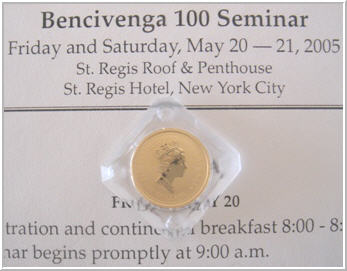 Back then, I was in my early 20s, and I didn't have the money to travel to NYC.
Fortunately, I got the tapes from the Bencivenga 100 Event years later (my friend passed them to me).
And wow… the value of the event is incredible.
Simply because Gary condensed his 5 decades worth of experience as a direct response marketer into 2 full days.
If you're a Gary Bencivenga fanatic like me…
Here's one of his best advice:
Aim to Improve Your Copywriting Craft By 1% DAILY.
That's the advice I took to get to where I am today.
If you're looking to get better at Copywriting every single day, I have a recommendation for you.
Check this offer by my friend Matt Brockenstate:
Subscribe to Copy Legends & download the "Legendary Ads Vault: 101 Greatest Ads" collection…
On the following page…
You'll have the rare opportunity to add the "COMPLETE Legendary Ads Vault" to your master swipe file collection – 1,951+ unique ads – including:
David Ogilvy Collection (85 Ads)
Gary Halbert Collection (52 Ads)
Claude Hopkins Collection (463 Ads)
Eugene Schwartz Collection (165 Ads)
Joe Sugarman Collection (47 Ads)
John Caples Collection (52 Ads)
Gary Bencivenga Collection (11 Ads)
Maxwell Sackheim Collection (79 Ads)
Ben Suarez Collection (45 Ads)
Robert Collier Collection (50 Ads)
Bruce Barton Collection (25 Ads)
Howard Luck-Gossage Collection (114 Ads)
Joe Karbo Collection (16 Ads)
Neil French Collection (97 Ads)
David Abbott Collection (79 Ads)
Ralph Ginzburg Collection (78 Ads)
Mel Martin Collection (20 Ads)
Ted Nicholas Collection (11 Ads)
James Webb Young Collection (25 Ads)
Victor Schwab Collection (9 Ads)
Lillian Eichler-Watson Collection (31 Ads)
Bill Bernbach Collection (83 Ads)
Get all 22 "Original Copy Legend" swipe files here (after subscribing), then join Gary B. inside the app…
If you're serious about becoming an A-List Copywriter, you can use the Swipe Files to improve your copy chops by 1% daily.
By the end of the year, you'd see your experience multiplied exponentially.
You'd be getting more raving feedback from your clients.
More clients will start to knock on your doors.
So do the work – start by getting 1% better every single day.
You'll thank me for it.
Get Better at Copywriting by 1% DAILY with "Legendary Ads Vault: 101 Greatest Ads" collection…
To the Pursuit of Dreams, Desire and Destiny
Kenneth Yu