Yo ,
Just yesterday, I had the privilege of conducting an online presentation to Marc's Master Implementer community.
I had a lot of fun sharing copy and positioning to over a rough dozen people.
Which is why today I'm totally in flow to write a value-packed email for you.
Now, if you've ever had the opportunity to learn copywriting from Kenneth, one of the most important concepts you can ever learn is the UFO principle.
It sums up how you create an irresistible offer even in a blood red market.
If you don't have a context of what the UFO is…
I'm just gonna share a bit with you:
U = Unique (You have to be distinctively different from your competitors)
F = Fantasy (You have to fulfill target market's wildest fantasies)
O = Object (Explain how your Deliverables help to achieve your promise)
In short, if you're creating any new type of course, you have to ensure that meets the UFO criteria.
It has to be different from everyone else and elicit desire from your target market.
If not… there's a probability whatever you put out might not work.
In today's email, I want to share about how one of the fastest growing Gym Brands in Singapore utilized this principle to scale.
One of the Case Study I shared with Marc's community was this: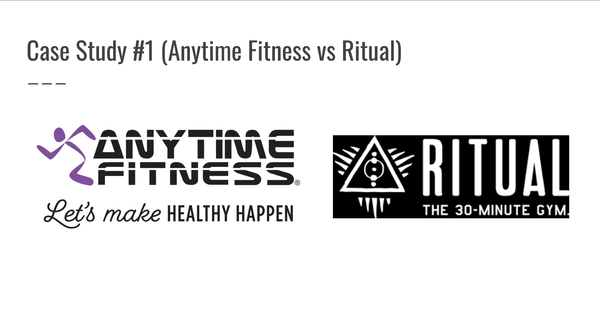 Something interesting to think about…
Both businesses are in the same industry.
They're solving the same broad pain of convenience of getting into shape.
However, the target market is different.
And the approach (the UFO) is super different.
Anytime Fitness offers 24/7 air-conditioned gym with fully functional gym equipment so anyone can grab a quick workout even at 11pm or 12am.
However, Ritual solves the same problem of convenience in a different route.
They offer 30-minute group workouts which are designed to burn fat in the most efficient way possible so people don't have to spend a lot of time working out.
Their U = 30-Minute Quick Workouts.
Their F = Burn fat in the least time possible. You don't have to spend 90 minutes or 2 hours in the gym.
Their O = Group Training Packages. Or Fitness App.
Now, I'm gonna ask a pretty simple no brainer question…
If you were to run a gym… which option A) or B) would be easier for you to scale?
Running a traditional gym business 24/7.
Running a gym where you do customized 30-minute group workouts for 12-hour slots.
It's a no-brainer isn't it?
From the client's perspective, we usually enjoy a certain degree of customization when it comes to group workouts.
If you compare this experience to going to a traditional gym where they only give you all the equipment to exercise… it's going to be much more enticing.
Well, that's really how they grew so fast.
Because Ritual's model is just far easier to scale.
And while Anytime Fitness may still be sort of a "market leader" where they have more gyms all around the world… their profit margins are really questionable.
Why?
Because the operating cost is insane.
Your lights and air conditioner are perpetually turned on 24/7.
Plus, you have to hire staff to man the gym at every single point of the day.
Is it one of the largest gyms in the world right now?
Yes.
But is the model really efficient and crisis proof?
No.
That's it guys. I hope y'all can leverage on the UFO principle to not just sell more products, but also build better businesses 😀
Cheers,
Zach
P.S: Btw, Kenneth is giving his Profit Piranhas Keynote Presentation on Saturday at 7am where he'll be sharing more about how he makes a windfall from Low-Ticket Clickbank Offers.
Check the event out over here