Yo
Wassup!
This week, I'll be reviewing Kenneth's special Keynote for Scale Summit.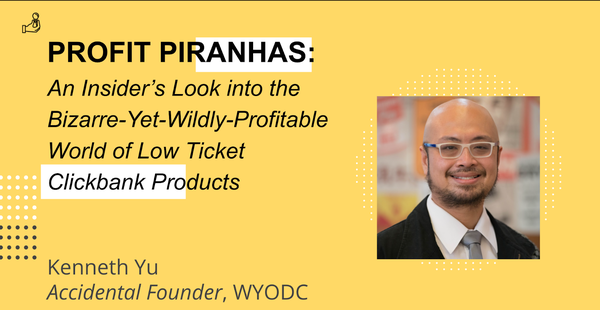 If y'all haven't watched it, Kenneth's may be expanding on this topic soon!
I've gone through that and there are a few golden nuggets inside the Keynote.
Here are the points:
1. Riches are in the MASSES.
The IM industry is currently obsessed with High-Ticket stuff. Such as High-Ticket Coaching, High-Ticket Courses, High-Ticket Mentorship.
Kenneth's central thesis is there are massive opportunities in the Low-Ticket products which are highly undervalued. 
2. Low-Ticket Products are Scaling to the Moon on Clickbank
Kenneth lists five different examples of Low-Ticket products taking off in the Clickbank Space.
With the right funnel structure, it's possible to make a fortune out of $27 or $37 ebooks and products.
This is probably due to the fact more people can test it out since low-ticket offers require low commitment 
3. The SuperAffiliate Game is outdated.
Gone are the days where you can easily build a list of 10K people and sell to them. I mean you can still do it but… it's a much more competitive model.
To do well nowadays, it's much more important you're a successful product owner.
Because this will allow you to connect better with Superaffiliates and other product owners
4. Diversity of Traffic Sources has helped Internet Marketers A LOT
Kenneth started doing Online Marketing in 2005.
Since then there are countless different Social Media Platforms appearing…
Twitter, Instagram, Facebook, Youtube, Pinterest.
Today, there are MILLIONS or even BILLIONS of people who are on these platforms.
This means there are different platforms for you to test out and see which works best for you.
5. Deploying a "Z to A" Business Model
As always, one of Kenneth's most important business principles is "Start at the Finish Line".
If you've read all the way to the end and you've decided you want to create a Clickbank info-product…
It's important to reverse-engineer what the Clickbank Super Affiliates want to promote.
Because only once you achieve product-market fit… you can easily get people to promote your stuff and scale your business to the moon.
There you go!
These are the top 5 takeaways.
I'm just curious… if Kenneth were to teach this in-depth as a product…
Would you be interested?
Hit the "REPLY" button if you wanna find out more.
Cheers,
Zach