Hey ,

I'm gonna apologize in advance because I might make you drool from reading this issue :D.
I wanted to continue where I left off last week where I talked about the Durian UFO…

This week let's explore how DR principles can be applied to traditional industries.

I'm gonna presume everyone here loves good food.

Especially a plate of good old fried rice.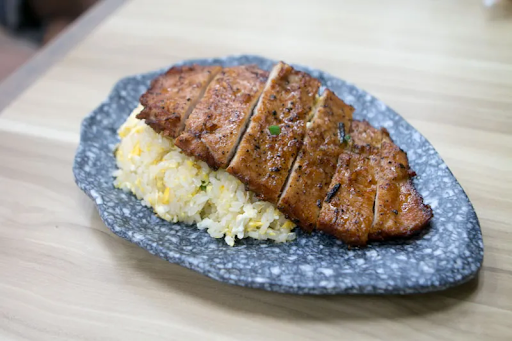 I just discovered this gem a few weeks ago and I've been visiting ever since.

The shop is called King of Fried Rice.

Because it's affordable (~$6) but the fried rice is really good (In fact, it's value proposition is DTF(Ding-Tai-Fung Style Fried Rice) at half the price.

Ding Tai Fung is a Taiwanese Chinese Restaurant and was featured in The New York Times in 1993 for being one of the world's Top 10 Best Restaurants. 

They have their Pork Chop Egg Fried Rice as one of their signature dishes.

I find that the value proposition for this brand is brilliant because it's giving an irresistible offer that is already validated. 

Of course, this doesn't mean that the business model is full-proof.

Because it's still questionable if they can maintain the same quality of food when they scale… but for now it's pretty good.

Let's get into the Unique Fantasy Offer Analysis shall we?
Unique: You can enjoy your Fried Rice in 4 different flavours – Plain, XO Sauce, Chili Oil and Tom Yum. Pick the one you like best.

Fantasy: Not having to pay restaurant prices for world-class food. If you were to go to a Chinese restaurant like Ding Tai Fung, the food is normally priced higher. Plus you'll have to pay Goods and Services tax plus service tax.

Object: Delicious Plate of Fried Rice at a highly affordable price. 
Did I mention the pork chop is awesome too?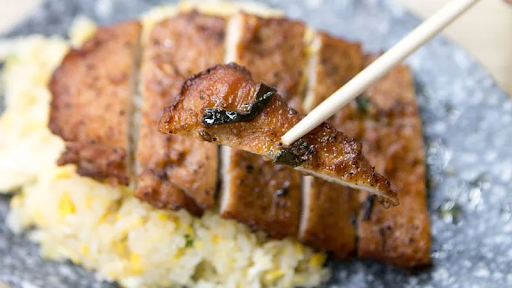 When you have an UFO like this in an F&B business, you will literally attract a starving crowd.
I know this because when I was walking over to buy lunch at 11:10am… there were already 9 customers ahead of me.

What's interesting is that… apart from having a really good UFO, the owner Lester, promoted his Fried Rice with the help of food bloggers and influencers.

And immediately, I saw there were a few IMMMBUE concepts at play. IMMMBUE is one of the branding principles taught by Kenneth. 

Let's explore…

Immediacy – The idea of leveraging on a rising trend because a rising tide lifts all ships: 
Lester is tapping into the idea that he sees more demand for chinese food in Singapore which is why he specially promotes his egg fried rice (which is a dish seen in many chinese restaurants).

Mythology – Key stories/Victories/Failures of product owner : 
Secondary School dropout in Singapore built an F&B empire in Singapore

Magic – What makes him so special? :
Lester worked at Jumbo Restaurant for 3 years to learn the ropes.

Multitude – Scout Badges? What are his achievements which make him special? 
Expanded to more than 10 outlets within 2 years.

Beauty – Are there any Branding Photos which portray them in the right light? 
Yes. There's tonnes of PR and publicity about them online.

Uniqueness – What makes him different from everyone else? 
This brand only sells fried rice… nothing more.

Extension – What are the values they want to portray?
World class food at affordable hawker shop prices. You don't have to go to a reputable restaurant to eat great food.

So yeah… I hope you got good value out of this series where I talk about food marketing.

If you'd like to take this learning back to your business context, it's all about taking something already validated in your space and then giving it a new twist so you're unique in the market.

List down all your assets, abilities and skills. 

Talk to people and see what is the gap in the market that people need but hasn't been filled yet.
Therein lies your competitive advantage.

This is probably one of the toughest things you can do as a business owner.

But it's the most valuable.

Cheers,
Zach