Hey ,
How's your week going?
This week, I wanted to share a story where I was ripped off when I was in my younger copywriter days.
Back then, I didn't know how to identify a client's red flags…
Neither did I know how to set and manage expectations (which are huge for copywriters but I will discuss this in another day).
I could still remember I was requested to work on a Real Estate SAAS back in 2018 by a client.
He was offering software to help realtors generate leads.
Realtors always have lead generation issues and honestly, they are willing to pay just about anything to get good leads.
It was a straightforward problem and straightforward solution.
By the time, I got the Video Sales Letter done (which was a good 15-16 pages long).
My client, for some reason, wasn't exactly satisfied with the copy I wrote.
Worst of all, he couldn't really pinpoint why when I asked him about it.
It's weird that he wanted a refund and yet couldn't really verbalize what was wrong with the copy.
What shocked me the next moment was that he filed a chargeback against me on Paypal and Paypal voted in his favour.
This meant that this client virtually got the Written Sales Letter for free as he did not have to pay a single cent.
I got zero remuneration for my efforts despite doing my best to help him solve his issue.
I still have the dispute receipt with me to this day.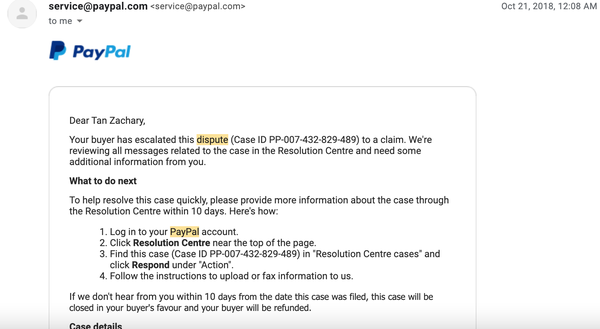 Personally, I've been using Paypal since 2014 but when this happened in 2018, I was so pissed off that I stopped using Paypal completely.
If you are a copywriter or a small business owner like me, you'd probably value cheap and fast money transfers whenever you work with overseas clients.
And fairness too.
More importantly, your payment processor should play fair and not settle a dispute in favor of the bigger guy.
Using Paypal just feels like paying a bomb for snail mail as compared to using Wise.
They charge a ton for transaction fees (close to 5% which is absurd) yet it's slow as hell to transfer from your account to your local bank.
If you're still using Paypal or you don't have a TransferWise account yet, I recommend signing up for one so you can transfer money faster and save on fees.
It'd blow your mind how fast (and cheap) it is.
Cheers,
Zach