What's up folks!
Today, I wanna share with you something I learned from Rajesh Setty.
Rajesh is a Silicon Valley entrepreneur, keynote speaker, angel investor, bestselling author and founder of 12 successful startups.
I had the privilege to join one of the Inner Sanctum sessions where he was the guest and whatever he shared blew my mind.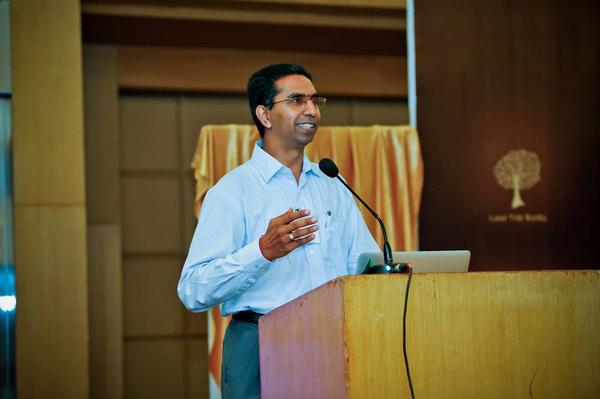 BTW… Inner Sanctum is a private high-end Mastermind that Kenneth hosts where he brings together his 8-9 figure underground mentors who don't usually do webinar or keynote sharing (because they don't have to).
The members get direct access to network with some of the most innovative and unorthodox business minds you probably won't find anywhere in the world.
Here's what I learned:
Rajesh Insight #1: What is the one skill you need to give you an unbelievably unfair competitive advantage for the rest of your life?
Rajesh: The ability to give meaningful gifts at scale at a very low incremental cost to you.
If you can do this, people will like you and be drawn to you.
You instantly become like Santa Claus.
If you can give meaningful gifts in abundance to everyone you meet, you can invoke the power of reciprocation. People will feel grateful to you because you've made a great impact in their lives.
The ability to give meaningful gifts at scale is like the ability to build a reservoir of reciprocation.
This is even better if you can do it at no or little incremental cost to you.
What you'll see is that people will try to reciprocate and give you opportunities even when you least expect it.
The meaningful gift you have should ideally be abundant for you to scale. And it should be tied to your strengths.
For example… If you're a good negotiator or good designer you can teach specific skills or thinking frameworks to give value.
Always try to play into your competitive advantage.
Look to create assets which work for you… even when you sleep.
———————————————————————————————————
Now with years of experience building successful startups, one may have expected Rajesh to say something like…
The most valuable skill you can have is strategic thinking, or the ability to pitch really well…
But he didn't.
Instead, he said something incredibly profound at that time.
I'm gonna simplify it for you into 4 words.
Meaningful Gifts At Scale.
And honestly, this one insight from Rajesh explains to me why Videos are so popular.
Because it's freakin' scalable.
Just record it once and you're good to go.
It has revolutionized the entire internet and helped build billion-dollar businesses.
Create new jobs.
Honestly, that's how people like Justin Bieber, Logan Paul and PewDiePew became celebrities.
In Malaysia, you'd probably know of NameWee.
If you're not into entertainment, there's an option to do podcasts too.
There are people like Joe Rogan and Dave Ramsey who are making millions off their podcasts.
If you don't like appearing on videos at all, you can consider becoming a writer.
The idea is simple.
If you're able to create good work through your talents (writing, thinking, speaking) and then multiply it through the right platforms (Youtube, Tik Tok, IG or Facebook)…
It's highly likely you can build a business around it.
The hard part is finding out what talents you have to offer to the world.
This requires you to look deep within yourself.
Find out the "Diamonds" you have within yourself (Look at what people appreciate about you which isn't commonly seen elsewhere.)
Having the courage to believe in yourself that you have the ability and capacity to serve people.
And then multiply whatever you have through the right platforms.
I hope this session of WYODC Confidential has inspired you to think deeper 🙂
That's all for this issue.
Cheers,
Zach