Hey ,
Last week… I talked about Wall Street Bets and some of the trends which are about to come as we see David taking on Goliath.
This week… I'll be analyzing "David" on a level even deeper.
So I was browsing online and I heard an interesting piece of news on Jaime Rogozinski.
He made a good 6-figures by selling the movie rights of his life story to a Movie Producer.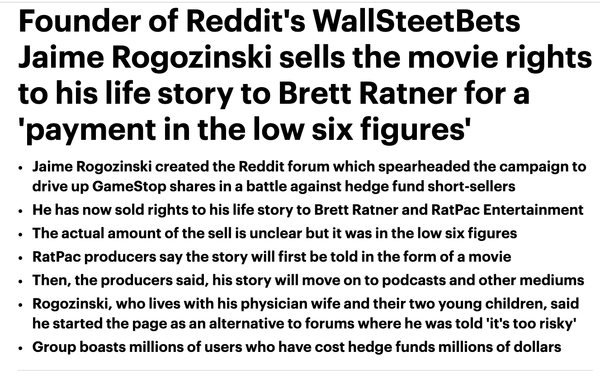 That's seriously free money.
By the way, Jaime is the founder of Wall Street Bets and he's been trending on a lot of Media sites since last week.
He created the online community back in 2012 as he wanted ideas on highly profitable trade ideas and then it took off.
Published a book in 2020 as WSB was quickly gaining steam.
(Which is a brilliant move btw)
This year Jaime has enjoyed a ton of Media Coverage.
He's been interviewed by The Guardian, Daily Mail and Wall Street Journal.
That's not all though… even podcasters are also getting him on Youtube Shows.
Today, WSB is an 8.6 million strong army of retail investors.
And the ridiculous thing is… even as Jaime distanced himself from this ballooning community…
His popularity SOARED.
To the point he's getting different income streams from all directions. From selling movie rights to getting incredible speaking engagement opportunities.
Heck, he can actually run a Retail Investing Talk Show now to ride on his new-found fame just like Jordan Belfort "The Wolf's Den" Channel.
That's the power of founding a Micro-Community.
However, not all Micro-Communities are successful.
The rise of WallStreetBets has created a bunch of other similar Micro-communities such SatoshiStreetBets.
But they just don't hold the same clout.
Not at the same level and scale where it can influence stock prices just like WSB.
In fact, building Communities is just like building a Church.
Once you have your own "Church", you can easily spread your teachings over the entire world… helping tens to hundreds of thousands of people with your gift.
The best thing is that this is a power no government or organization can take away.
It's not really Platform Dependent. So it doesn't matter if Facebook or Instagram have some new laws to make monetization harder.
Neither is it Physical. So you don't necessarily have to build or rent a space for your students to gather and learn from you.
Also, you DON'T HAVE to Pay an arm or a leg to build your community. Paid ads are completely optional for this.
All you really need is expertise, passion… and a laptop for you just like how Jamie Rogozinski did it.
Do it well… and you'll start to see opportunities knocking on your door – Getting featured by News Media, Podcasts or even Celebrity Mentions (Like Jordan Belfort).
Which would lead to a whole lot of high-paying coaching, training and even speaking gigs for you.
If this sounds interesting to you…
Stay tuned because Kenneth will be re-launching his Brand New (No No Corona Training) in Mid February where he'll be sharing his secrets on how to create a Cash-Churning Community from Online Info-products.
Rooting for you,
Zach