Yo ,
How's it going so far?
Earlier this weekend, I received a message from a reader…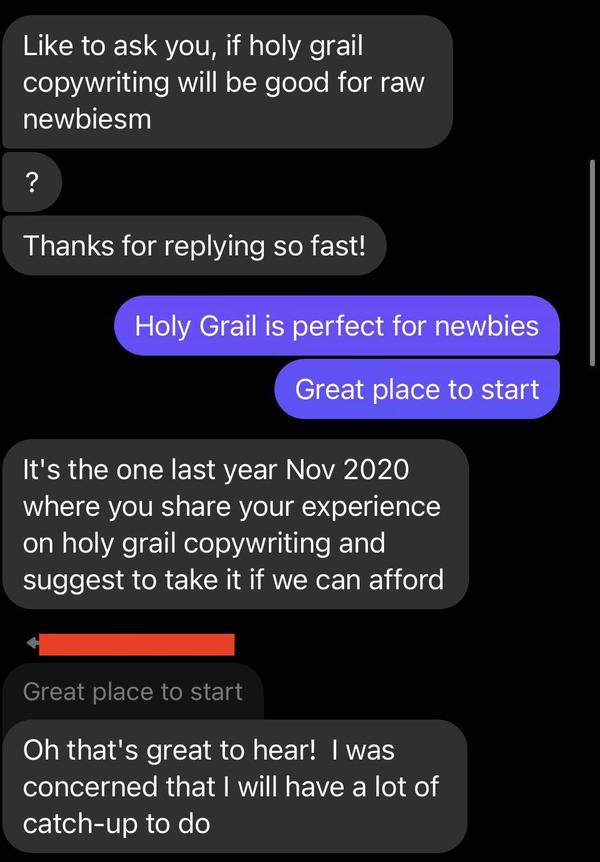 He was curious if Holy Grail Copywriting is a good fit for him since he's pretty new.
He was also considering buying between Copyhour or Holy Grail Copywriting.
I'm sure many of you have similar concerns too.
Which is why I thought of addressing this in this week's WYODC Confidential.
Btw… there are 3 reasons why you guys should absolutely listen to what I've to say:
I don't get any financial compensation from this. Yup, I don't get paid commission if someone clicks on my email and decides they want to buy. This is not affiliate marketing.
I've personally bought a ton of Copywriting courses – CopyHour, RMBC, HGC and 80/20 Email Copy. Apart from that, I studied John Carlton, Ben Settle and a lot of the greats.
I actually apply whatever I've learned. I'm no armchair copywriter… who learns about copy but doesn't actually write copy.
First off, if you're curious about how HGC stacks up against the other copy courses or copy books…
Here's my take really.
1. Don't buy COPYHOUR
Heck, I think I actually have a referral code for it or something, but I don't think you should get it.
And it's not because I don't believe in handwriting copy… I do.
But the issue with CopyHour is that… they'd ask you to handcopy really old ads which may not be as relevant today.
They'd give you a long list of books to read about copy and there you go…
That's how you learn.
Copyhour was where I started 4-5 years ago… but I believe it's not the best way to learn copy today because the market has shifted (There are FAR more people doing copy now than ever before).
What I'm completely sure is that if you take some of the best ads which have worked brilliantly in the past and apply them today… you can easily come across as "hypey".
Which is not a very good thing…
And that's why I think you shouldn't buy Copyhour.
2. Go Beyond the Good Old Books
Lots of people talk about reading books like Breakthrough Advertising, The Adweek Copywriting Handbook, The Boron Letters.
I think the majority of them are a waste of time.
Again… here's why, most of these books were written in the past.
An era where the internet wasn't even mainstream yet…
And today, we have FB, IG, Youtube and Tiktok.
When you read these books… you may not get the right context of how to apply these rules.
If you're completely new… you might struggle to see how these principles apply in today's world.
And that's why if you can afford it… HGC can greatly cut your learning curve by half or more because it talks about how copy is actually relevant today. 3. Unlike other courses, Holy Grail Copywriting is neither strategic nor tactical.
Earlier I mentioned before… Copyhour isn't relevant anymore.
80/20 Email Copy only applies if you want to learn how to write email copy. (Honestly, writing emails is freakin' easy if you understand the copy principles at a deep, deep level).
RMBC is great at teaching you how to write copy… but there are many things it doesn't cover.
Like:
How do you develop a Winning Big Idea so as to get your Copy promo on the right foot?
How do you Differentiate Yourself from all your Competitors in the Red Ocean Market?
What are the Pain Points you should use if you've researched a few (… and how do you identify the ONE biggest pain point?)
What is the exact Religion-Based Story-Selling Method you can use to generate lots of sales for your next promo.
HGC is largely Principles-Based.
And that's the beauty of it.
There's no expiry date or shell life for Principles… and while the context (or market) may change… Kenneth will prepare you well for it.
Okay. Nuff' said.
You can check Kenneth's Golden Keynote if you haven't…
HOLY GRAIL MANDATE: How to Use Copywriting to Thrive in the Still-Covid World
Link Here: https://fb.watch/5RxDBlIZmr/
The Keynote is FREE… and heck, even if you don't buy HGC, you're gonna get a ton of takeaways you can implement to get started writing copy.
When you learn the Holy Grail, you can easily "make it rain" no matter where you go.
Kenneth has reopened his Holy Grail Copywriting course, if you want to find out more…
See you there!
Cheers,
Zach
P.S: Good news! Kenneth would be speaking at SCALE Summit in late June 2021.It's a FIVE Day Virtual Summit comprising of all the top online marketers.
You should absolutely check it out here: http://www.holygrailcopywriting.com/scale-summit